Recover Keys. Retrieve lost keys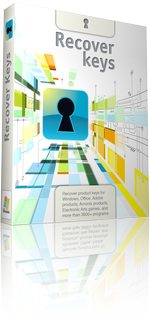 Recover Keys is a useful Windows tool which displays the installed software product keys and other important license information for more than 9000+ software packages. This small and smart product key viewer will display product keys for Microsoft Windows, MS Office, Acronis products, Nero, Adobe products and other software installed on your local or network computers. A full list of supported software can be found here.
This light and convenient Recover Keys program scans your local computer, another operating system on your PC or multiple network computers to retrieve license information from registry. You can save this license information to a text, excel and XML file or simply send it to a printer. This product key finder also allows you to recover software products installed on your crashed hard disk drive.
Recover Keys is a perfect product key finder for individual users, network administrators at large enterprises and small businesses undergoing a software license compliancy. We provide different license packages for our Recover Keys product to satisfy any needs.
With this product key finder you can easily and quickly backup license information for all the software installed. Refer to this backup by your Recover Keys whenever you need to reinstall your operating system or modify any smallest application on your PC. Enjoy this new experience saving your time and money with Recover Keys.


Please watch the video below to learn more about the Recover Keys features: